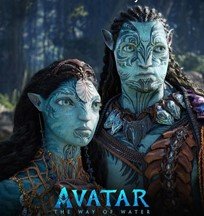 Fakta Menarik Film Avatar 2 : The Way of Water dengan Teknologi Underwater
Fakta Menarik Film Avatar 2 – Film Avatar yang pertama dirilis tahun 2009. Orang secara langsung telah menemukan siapa bintang favorit mereka dan hal tersebut sudah meningkatkan rasa keingintahuan mengenai siapa saja yang akan menjadi bintang terbaru dalam film Avatar 2.
Berikut beberapa fakta yang menarik dalam film Avatar 2, yang dilansir dari halaman Comic Book Resources, Jumat (16/12/2022) lalu.
1. Banyaknya Adegan Dibawah Air
Cameron dan semua tim telah membuat teknologi untuk penangkapan gerak bawah air terbaru yang khusus bagi franchise film ini dan mengubah cara membuat film bawah air dimasa mendatang.
2. Para Bintang Utama Kembali
Penggemar film Avatar akan melihat kembali bintang favorit mereka di film terbarunya. Zoe Saldana akan berperan kembali sebagai Neytiri dan Sam Worthington juga berperan Kembali sebagai Jake Sully.
3. Sutradara Membantu Produksi Kamera untuk Syuting 
Sutradara film yaitu James Cameron begitu bersemangat pada proyek Avatar terbarunya dan ingin alat yang terbaik untuk membuat filmnya. Perusahaan produksi Cameron, Lightstorm Entertainment, bekerjasama dengan SONY untuk mengembangkan kamera yang baru.
4. Budget Lebih Besar Daripada yang Pertama
Film Avatar yang pertama mempunyai budget senilai 237 juta dolar AS (Rp3,7 triliun) ditahun 2009 dan budget bagi Avatar: The Way Of Water kini lebih besar dari yang sebelumnya. Film tersebut diberikan budget sebesar 250 juta dolar AS (Rp3,9 triliun).
5. Berfokus terhadap Cerita Keluarga
Sekuel film yang begitu ditunggu ini mungkin meningkat sekitar lima belas tahun kedepannya dan memperlihatkan Jake Sully sebagai kepala suku dan Neytiri yang merupakan pendeta tinggi. James Cameron biasanya menambahkan tema universal dalam jantung plot filmnya yang membuat tema tersebut relate dengan penonton.
6. Melakukan Latihan Menyelam Khusus untuk Para Aktor
Seluruh aktor yang utama dalam film Avatar 2 perlu berlatih untuk menyelam secara bebas dengan menggunakan perlengkapan scuba mungkin bisa mengganggu teknologi MoCap (Motion Capture).
7. Seluruh Sekuel Dibuat Bersamaan
Seluruh sekuel dalam film Avatar ditulis pada satu waktu. Cameron bermitra Bersama tim penulis seperti Josh Friedman, Rick Jaffa, Amanda Silver serta Shane Salerno. Untuk memastikan keselarasan film dan tim dengan menggunakan cara yang hampir sama seperti storyboard untuk menghasilkan hal dasar dari film.