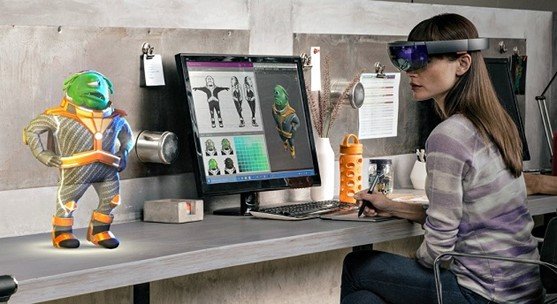 Penggunaan Teknologi VR dan AR dalam Industri Gaming
VR & AR Industri Games – Semakin berkembangnya teknologi, game kini semakin canggih dan telah menghadirkan pengalaman yang semakin nyata. Hal tersebut tercipta karena adanya bantuan dari teknologi virtual reality dan augmented reality untuk industri gaming.
AR atau augmented reality adalah teknologi yang menampilkan gambar atau video yang diciptakan dari komputer menjadi nyata secara langsung. Gabungan antara visual dan audio pada game dihadirkan dalam lingkungan nyata.
Apa itu Virtual Reality?
Apabila teknologi augmented reality bisa menampilkan berbagai objek kedalam dunia nyata. Sedangkan. virtual reality bisa membawa dunia nyata kedalam dunia virtual. virtual reality membuat berbagai objek buatan berbentuk animasi. Dengan teknologi ini pengguna bisa merasakan pengalaman menyenangkan dalam dunia virtual.
Apa Pengaruh Teknologi VR & AR Industri Gaming?
Penerapan VR & AR tidak begitu saja dimanfaatkan untuk membuat game terlihat modern dan terkesan mahal. Diperlukan juga perangkat khusus agar game dapat dimainkan dengan baik. Ada juga game yang dapat dimainkan dengan menggunakan teknologi virtual reality dan augmented reality.
Bagaimana Cara Kerja Teknologi VR & AR dalam Industri Gaming?
1. Real-time Interaction
Teknologi Augmented Reality mempunyai kemampuan untuk membawa dunia nyata dan dunia virtual menjadi satu tempat. Jadi gabungan kedua teknologi ini membuat hasil yang menarik. Tentunya teknologi ini sangatlah berguna dalam industry gaming.
2. The Renewal of 3D
Teknologi ini banyak diminati karena bisa membuat pengalaman yang terkesan lebih menarik. Penerapan animasi 3D menggunakan teknologi VR & AR dalam sebuah game pastinya akan membuat sensasi berbeda Ketika bermain.
3. Fascinating Experience
Dalam era digital saat ini, minat pada industri gaming tentunya terus semakin meningkat. Penerapan teknologi VR & AR pada industry game tentunya bisa menhubungkan gap ini dan membuat pemain mendapatkan pengalaman yang lebih imersif dan juga menarik, karena bisa memasuki ke dalam dunia game seakan berada didunia nyata.
4. Change in Lifestyle
Karena sangat menarik, banyak bidang lainnya yang telah memanfaatkan gaming menggunakan teknologi VR & AR untuk industri mereka.
5. Membuat Bisnis Lebih Menarik menggunakan Teknologi VR & AR!
Bukan hanya dapat diterapkan pada industri gaming, teknologi VR & AR juga bisa diterapkan pada berbagai industri lain yaitu ritel, otomotif dan lain lain.