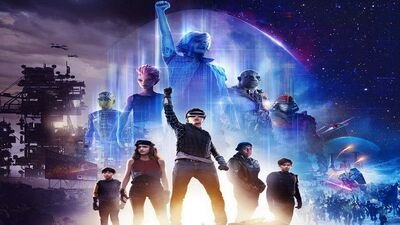 Rekomendasi Film Virtual Reality Yang Seru Abis
Rekomendasi Film Virtual Reality Yang Seru Abis – Tidak bisa dipungkiri bahwa virtual reality (VR) adalah teknologi yang begitu populer saat ini.
Teknologi VR sudah banyak digunakan dalam berbagai bidang industri, salah satunya adalah industri perfilman.
Sebuah tema film yang menerapkan teknologi ini telah dilakukan 33 tahun lalu dalam film Back To The Future Part: II.
Selain itu, ada juga film lain dengan konsep virtual reality bagi anda. Yuk, simak selengkapnya dalam artikel ini!
Rekomendasi Film Virtual Reality Yang Seru Abis
Ready Player One
Ready Player One menceritakan mengenai kontes mencari harta karun dalam dunia virtual OASIS.
Dimana, para pemainnya harus menggunakan VR Headset untuk memasuki OASIS dan bermain dengan avatar mereka untuk menjalankan misi tersebut.
Difilm ini, anda akan terpukau pada alur cerita yang ditampilkan oleh Spielberg.
Selain itu, anda bisa melihat penggunaan virtual reality dalam film ini.
The Matrix
Film virtual reality ini dihadirkan pada tahun 1999. The Matrix menceritakan tentang dunia virtual kompleks.
Dimana Keanu Reeves berperan sebagai hacker yang mempunyai misi untuk menyelamatkan dunia.
Film ini adalkah sebuah film klasik dan disebut sebagai standar emas dari film Virtual Reality.
Ender's Game
Ender's Game menceritakan tentang remaja yang direkrut oleh militer internasional untuk memimpin perang dan melawan alien diluar angkasa.
Selain itu, film ini juga menggunakan teknologi virtual reality yang unik.
Film yang dihadirkan pada tahun 2013 ini disesuaikan melalui bukunya oleh Orson Scott.
Tron: Legacy
Film ini menceritakan tentang Sam Flynn; diperankan oleh Garrett Hedlund, yang memasuki dunia virtual berbahaya melalui mesin permainan.
Didalam dunia virtual tersebut ia harus menyelesaikan permainan agar bisa keluar dari dunia tersebut.
Tron: Legacy dihadirkan pada tahun 2010 dengan genre aksi dan Sci-Fi.
Jumanji: The Next Level
Jumanji: The Next Level menceritakan tentang sekelompok remaja yang terperangkap dalam dunia virtual Jumanji.
Dalam dunia tersebut, setiap orang akan memperoleh avatar pilihan untuk menghadapi tantangan baru yang menyenangkan.
Film ini disutradarai oleh Jake Kasdan dan begitu populer pada tahun 2019 lalu.
Nah jadi, teknologi Virtual Reality ini bisa digunakan sesuai dengan inovasi yang dibutuhkan bukan?
Selain itu, anda juga bisa menerapkan teknologi ini untuk kebutuhan bisnis anda.