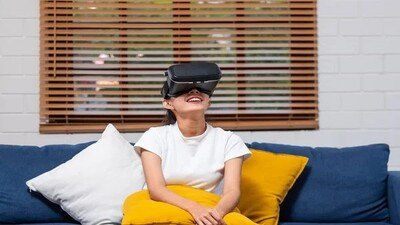 Tips Cegah Motion Sickness Ketika Menggunakan Perangkat VR
Tips Cegah Motion Sickness Ketika Menggunakan Perangkat VR – Memainkan sebuah game atau melihat konten dengan menggunakan perangkat VR memang sangat menyenangkan.
Tapi mungkin akan ada beberapa faktor konten dan teknis yang bisa menyebabkan pengguna mabuk atau terkena motion sickness setelah menggunakannya.
Gejala mabuk atau motion sickness ketika menggunakan perangkat VR bisa berupa pusing, mual hingga disorientasi arah.
Apa itu Motion Sickness?
Salah satu penyebab gejala ini adalah sudut 360 derajat yang ada didalam konten Virtual Reality.
Alasannya yaitu pengguna bisa dibuat lupa akan keberadaan didalam dunia nyata dan menganggap dirinya sedang berada dalam dunia virtual.
Akan tetapi, hal tersebut tidak sepenuhnya benar.
Selain itu, penyebab dari motion sickness ketika menggunakan perangkat ini sebenarnya disebabkan oleh perangkat itu sendiri.
Tips Cegah Motion Sickness Ketika Menggunakan Perangkat VR
Memilih Konten yang Berkualitas
Perlu diketahui, tidak semua konten yang ada dalam VR dilengkapi oleh kualitas yang menarik untuk dilihat dalam sudut 360 derajat.
Salah satunya seperti resolusi video yang rendah.
Bahkan, anda bisa memilih konten berkualitas dan resolusi tinggi yang disediakan secara resmi.
Perangkat Kacamata VR yang Spesifikasinya Tinggi
Kacamata VR yang dijual murah memang sangat menggiurkan.
Tapi, perangkat yang dijual murah biasanya tidak menyediakan pengaturan ukuran dan jarak lensa.
Hal tersebutlah yang menyebabkan anda mudah pusing dan mual.
Duduk ketika Menggunakan Perangkat Ini
Posisi duduk dikursi maupun sofa adalah sebuah posisi paling aman untuk mencegah motion sickness.
Selain duduk, anda juga disarankan untuk tidak melakukan banyak gerakan ekstrem secara berlebihan.
Menyadari bahwa Konten yang dilihat Tidak Nyata
Jadi intinya, bermain VR menyebabkan otak anda memberikan sinyal palsu keseluruh tubuh.
Karena otak menganggap hal yang dilihat merupakan kenyataan.
Membayangkan otak bahwa anda hanya menggunakan VR adalah salah satu cara yang efektif untuk mencegah motion sickness.
Matikan Efek Motion Blur dan Depth of Field
Efek Motion Blur bisa membuat gerakan mata secara mulus dan natural.
Sementara efek Depth of Field bisa menghadirkan kesan fotografi menarik terhadap visual game.
Mengatur Tingkat Cahaya Perangkat
Anda bisa mengatur tingkat cahaya dan meredupkan cahayanya sesuai dengan dunia sekitar.
Dengan demikian, mata bisa menyesuaikan diri dengan mudah setelah menggunakan perangkat VR.