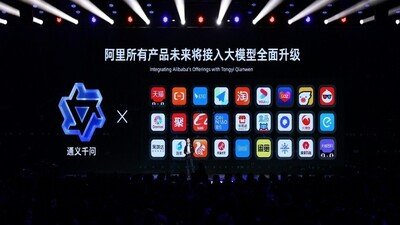 Tongyi Qianwen, Chatbot AI buatan Alibaba
Tongyi Qianwen, Chatbot AI buatan Alibaba – Teknologi Artificial Intelligence (AI) atau kecerdasan buatan merupakan sebuah teknologi yang diterapkan ke dalam sistem komputer untuk melakukan kegiatan seperti manusia.
Tujuan dari AI yaitu meniru proses kognitif manusia seperti belajar, berpikir, membuat keputusan, dan mengoreksi diri sendiri.
ChatGPT merupakan salah satu teknologi AI yang saat ini populer dan banyak digunakan.
Sebuah perusahaan yaitu OpenAI menghadirkan dan mengenalkan teknologi ini sebagai chatbot pada tahun 2022.
Chatbot ini bisa menjawab pertanyaan atau perintah dari manusia secara langsung dan lebih akurat.
Tongyi Qianwen, Chatbot AI buatan Alibaba
Raksasa teknologi asal China, Alibaba Group Holding baru saja menghadirkan chatbot AI yang bernama Tongyi Qianwen.
Teknologi ini rencananya akan dihubungkan ke dalam berbagai aplikasi bisnis perusahaan.
Dimulai dari interaksi perusahaan, asisten suara cerdas, e-commerce, pencarian dan navigasi serta hiburan.
Dengan menggunakan bahasa mandarin dan Inggris, model ini awalnya akan digunakan di DingTalk, aplikasi messaging kantoran Alibaba.
Selain itu, chatbot ini bisa digunakan untuk meringkas catatan rapat, menulis email, serta menyusun proposal bisnis.
Tongyi Qianwen juga akan ditambahkan pada Tmall Genie, asisten suara Alibaba.
"Kami berada dalam momen penentuan teknologi yang didukung oleh AI generatif dan komputasi awan.
Bisnis dalam semua bidang sudah mulai menerapkan transformasi intelijen untuk tetap menjadi yang terdepan." Kata Daniel Zhang, Chairman and CEO of Alibaba Group and CEO of Alibaba Cloud Intelligence.
"Alibaba Cloud berencana untuk membuat komputasi dan layanan AI menjadi lebih mudah untuk diakses dan inklusif untuk perusahaan bahkan pengembang.
Bahkan untuk memungkinkan mereka agar mendapatkan lebih banyak pengetahuan, menjelajahi model bisnis baru untuk perkembangan.
Bisa juga untuk menghadirkan lebih banyak produk atau layanan teknologi mutakhir untuk masyarakat," ujarnya.
Cloud
Alibaba Cloud akan menyediakan akses Tongyi Qianwen ke cloud dan membantu klien mereka untuk membuat model bahasa yang bisa disesuaikan.
Chatbot ini akan diatur oleh informasi hak milik dan data klien, sehingga bisa mengurangi biaya dan sumber daya yang dibutuhkan.
Mereka juga mengumumkan pilihan dengan biaya yang lebih terjangkau untuk produk cloud utama.
Produk tersebut yaitu Elastic Compute Service (ECS), dengan mengenalkan instansi ECS baru, OSS Reserved Capacity (OSS-RC) serta OSS Anywhere Reserved Capacity (OSS- BUSUR).