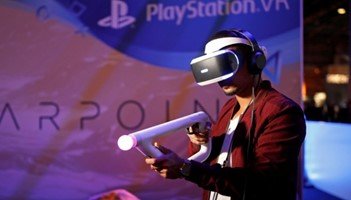 Wisata Di Indonesia yang Menerapkan Virtual Reality
Wisata VR – Teknologi Virtual Reality  semakin diminati berbagai bisnis, salah satunya pariwisata. Sudah terbukti dengan berbagai wisata yang telah menggunakan teknologi Virtual Reality di Indonesia.
Tempat Wisata Diindonesia Yang Menerapkan VR
1. Sandbox, Jakarta
Jadi, anda bisa mencoba sebuah game yang menggunakan teknologi VR di Sandbox. Lokasinya di Pondok Indah Mall, Jakarta, terdapat tiga game yang ada disana. Yaitu Amber Sky 2088, Curse of Davy Jones serta Deadwood Mansion. Game tersebut menyajikan suasana game yang berbeda.
Harganya juga berbeda, sesuai dari banyaknya pemain dan juga paket yang dimainkan. Pada Curse of Davy Jones, contohnya yaitu apabila anda memainkannya dengan seorang teman, maka harga tiket yang perlu dibayar seharga Rp176.000/orang/15 menit.
2. Taman Pintar, Yogyakarta
Pada Taman Pintar Yogyakarta, berlokasi di Zona Teknologi Popular anda dapat menggunakan alat demonstrasi yang menerapkan teknologi VR. Jadi, para pengunjung dapat melakukan komunikasi di dalam lingkungan virtual. Lebih menariknya, anda juga menggunakan VR headsets supaya seakan masuk ke dalam dunia virtual tersebut. Anda dapat menggunakan alat tersebut yang harganya Rp20.000.
3. Virtual Arena, Jawa Timur
Di jawa timur juga ada, berlokasi di Jawa Timur Park 3 di wahana Virtual Arena. Jadi disana anda dapat memainkan 4 game dengan menggunakan teknologi VR. Terdapat Mix Reality Experience, VR bridge, game XD serta virtual shooter experience. Game tersebut mempunyai keunikan masing-masing, jadi tidak rugi untuk memainkan semuanya. Agar dapat memainkan seluruhnya, anda dapat membayar seharga Rp30.000 pada setiap game-nya.
4. Kovee VR Theme Park, Bali
Perusahaan terkenal dari Korea bernama Kovee juga meningkatkan bisnisnya hingga di Indonesia. Sebelumnya, bisnis tersebut membuka cabang di Neo Soho Mall lantai 2, selanjutnya membuka cabang kedua di Mall Alam Sutera, tapi saat ini perusahaan tersebut telah membuka cabang di bali.
Di sana, anda akan bisa memainkan game yang cukup banyak. Terdapat empat lokasi dan setiap konten berbeda dalam destinasi wisata tersebut. Untuk harga, anda akan membayar biaya sebesar Rp50.000 hingga Rp125.000 per konten. 
Jadi, itulah wisata yang menerapkan virtual reality di Indonesia. Anda dapat mengunjungi salah satunya agar merasakan suasana seolah-olah memasuki dunia game tersebut. Jadi, apakah anda tertarik mengunjungi salah satunya?