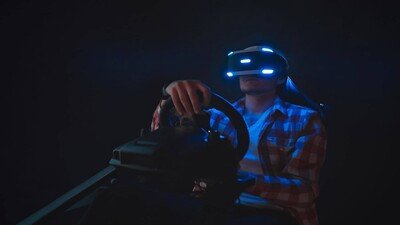 Cara Kerja VR dan AR dalam Industri Gaming
Cara Kerja VR dan AR dalam Industri Gaming – Semakin berkembanganya teknologi, game kini menjadi semakin canggih dan juga menghadirkan pengalaman yang terasa semakin nyata.
Hal ini bisa terjadi karena adanya teknologi baru seperti Virtual Reality dan Augmented Reality pada industri gaming.
Pengaruh VR dan AR dalam Industri Gaming
Augmented Reality adalah teknologi yang menghadirkan gambar atau video yang disimulasikan oleh komputer menjadi nyata secara real-time.
Gabungan antara visual dan audio pada game ditampilkan dalam lingkungan nyata.
Hal ini tentu menjadikan berbagai game semakin interaktif dan lebih menarik.
Berawal dari tahun 1998, teknologi AR awalnya digunakan dengan membuat garis kuning di berbagai permainan sepak bola seperti Winning Eleven dan PES.
Dari situlah, teknologi ini mulai merambah pada industri hiburan ini.
Penerapan VR & AR dalam industri gaming dianggap game changer untuk para pelaku industri.
Kini, teknologi ini juga semakin berkembang dan digunakan untuk berbagai kegiatan pemasaran, edukasi dan lain-lain.
Penerapan teknologi VR dan AR diindustri gaming telah terkenal dimasyarakat, meskipun penggunaannya belum meluas.
Maka dari itu, produsen game tidak bisa menghadirkan game begitu saja yang dapat dimainkan dengan menggunakan VR atau AR.
Penerapan teknologi ini juga tidak asal digunakan untuk membuat game terlihat futuristik dan mahal.
Dibutuhkan juga perangkat khusus supaya game bisa dimainkan dengan baik.
Cara Kerja VR dan AR dalam Industri Gaming
1. Real-time Interaction
Teknologi AR memiliki kemampuan untuk membawa dunia nyata dan virtual pada satu tempat. Sehingga, gabungan keduanya menampilkan objek yang menarik.
Hal ini membutuhkan tindakan khusus.
Waktu ketika interkoneksi bisa mendorong para pemain game untuk bisa bermain bersama meskipun mereka ada di negara yang berbeda.
2. The Renewal of 3D
Penerapan teknologi 3D sebenarnya bukan hal yang baru pada industri.
Teknologi ini mungkin telah banyak diakui dan digemari karena bisa memberikan pengalaman yang berbeda bahkan lebih menarik.
Penerapan objek 3D menggunaan teknologi VR dan AR dalam game favorit tentu saja dapat mengahadirkan sensasi berbeda ketika dimainkan.
3. Fascinating Experience
Di era digital saat ini, berbagai permintaan tertentu pada industri gaming mungkin semakin meningkat.
Hal tersebut tentunya bisa meningkatkan harapan penggunanya agar mendapatkan pengalaman dan sensasi yang berbeda ketika bermain.