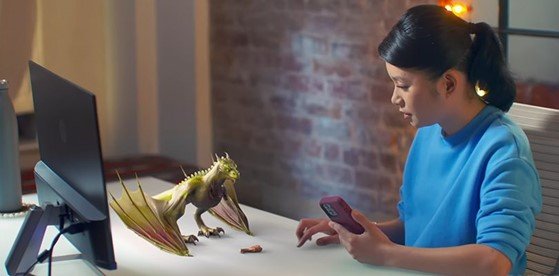 Inilah Fitur Aplikasi AR DracARys House of The Dragon
Fitur Aplikasi AR – Teknologi ini memberi berbagai manfaat yang sangat membantu untuk beragam bidang dan juga industri. Pastinya, teknologi ini di buat berdasarkan berbagai konsep yang berbeda untuk menciptakan pengalaman yang menarik untuk para penggunanya. 
Stasiun televisi Amerika Serikat HBO (Home Box Office) telah menciptakan sebuah film yang prekuel pada televisi populer mereka Game of Thrones (GOT)yaitu House of The Dragon. film itu bercerita tentang 200 tahun sebelum adanya Game of Thronesyaitu merebutkan kedudukan yang sangat sukses besar di HBO. House of The Dragon juga bercerita bagaimana House Targaryen yaitu sebagai kerabat penunggang naga yang berjuang saat menempati tahta Iron Throne.
Fitur dari Aplikasi AR DracARys
1. Memperlihatkan Berbagai Naga House Targaryen Dengan Unsur Game
Fitur menarik yang pertama adalah aplikasi ini yang akan memperlihatkan berbagai naga yang ada di dalam House Targaryen. DracARys ini juga di bekali oleh fitur gamifikasi jadi kamu juga akan bisa merasakan permainan seakan memelihara naga yang sebenarnya. Ketika membuka aplikasi DracARys ini, kamu akan memperoleh telur naga yang nantinya akan menetas dari Westeros maupun wilayah yang terdapat dalam film tersebut. Ketika telur naga itu menetas kamu nantinya akan mempunyai naga yang berwarna, ukuran serta tampilan yang sama dengan kepribadianmu. 
2. Filter Naga Dalam Objek Nyata
Bukan itu saja, bahkan kamu juga bisa berfoto dan memakai filter naga menggunakan kamera depan handphone. Kamu juga bis mengarahkan kamera belakang handphone ke langit maupun ruangan yang terbuka agar melihat naga House of The Dragonyang seakan terbang di langit. 
3. Mengenal Suara Memakai Bahasa Valyrian  
Pada film GOT atau House of The Dragon, pemeran keturunan Targaryenbisa berbicara bahasa Valyrian. Bahasa Valyrian adalah bahasa fiksi yang dibuat oleh David Peterson untuk film tersebut. 
Berbagai kata yang paling terkenal dari film itu adalah "Dracarys" yang artinya yaitu "Dragonfire". Dalam aplikasi ini tersedia fitur mengenali suara apabila kamu menyebut kata "Dracarys", kamu bisa memerintah naga supaya menyemburkan api, seperti dalam film House of The Dragon.
4. Mudah Diakses  
Menggunakan aplikasi AR ini mudah sekali untuk diakses. Kamu tinggal memasangnya di perangkat iOS maupun Android dengan memanfaatkan kamera handphone saja.